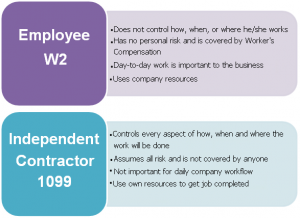 Many small business owners find it easier or more convenient to use independent contractors than to hire employees; but is the arrangement you have with a worker that of an independent contractor or that of an employee?
According to the IRS, there is a huge difference between an employee and an independent contractor, and they are adamant about doing all they can to ensure each is treated as who they really are by every organization. So how do they expect you to differentiate and treat each? Below are a number of key questions, based on IRS Guidelines, that when answered will lead you to the most suitable solution for your particular situation of who your worker should be – an employee or an independent contractor:

How often does this person work for you? How regularly someone works for you is more important than how many hours they work for you. For example, an accountant who balances the books on a quarterly basis is definitely not an employee as is an assistant who comes in once per week on any day chosen by her, to catch up on the previous week.

Do you set the person's schedule? A key indicator of employment status is how much control you have and exercise over a worker's schedule. Independent contractors set their own schedule, employees do not.

Do you instruct or supervise the worker? While you are probably providing all workers with some guidance, how much control you have over their approach helps determine their status. Independent contractors listens to what you want to get done, but use their own approach to get it done. Employees are often told what, how, and when to do what.

If additional workers are needed for a job, who hires them? The amount of control you have over a worker's decision-making power is an important factor in determining their employment or non-employment status. Independent contractors are responsible to get the task they are given done and to hire help if they need to. Employees do not hire additional help, their employers do.

Who provides the tools and materials necessary to complete the job? Employees use the company's equipment and supplies; independent contractors provide their own.

How is the worker paid? The timing and method of payment are important indicators of worker status. Employees are often on payroll, whereas independent contractors invoice for payment. If the person is paid regularly, he is most likely an employee. However, those who are paid only when a project is complete, or a sale is made, may be an independent contractor. (A bit blurry, but looking at the entire picture will dim the blur.)
Do you reimburse this worker for any business or travel expenses? Companies generally reimburse employees for expenses, while independent contractors pay their own to get the job or task complete and will add all expenses to their Invoice.

Can this worker's decisions impact their own profits or losses? Independent contractors generally take on a degree of financial risk that employees do not. Renting an office, maintaining equipment, advertising and having multiple clients can all indicate profit-or-loss risk. Employees are risk free and are also covered with workers' compensation.

Is this person hired to work indefinitely, or for a specific project or time period? How long someone works for you is one of the key considerations in determining employee status. Someone who works indefinitely is "probably" an employee. Someone who works on specific project or for a fixed time period may be an independent contractor. (This is where the lines start blurring for me.) If someone is working for me once per year and I want to have them working for me until I am out of business or he quits, then this person definitely does not sound like an employee to me even though he is working with me indefinitely. But again, looking at the big picture will minimize this blur.

Are the person's activities essential to your day-to-day business? The role a person plays in your broader business is a critical factor. If someone has to keep the business pumping such as a receptionist at a hotel, or a chef at a restaurant, then of course they are employees.
In short, if:
You the employer control how, when, and where this person works, this worker is an employee.
This person takes little or no personal financial risk, this worker is an employee.
This person's work is relatively important to your business, this worker is an employee.
This person uses your resources – computer, printer, office supplies, etc., this worker is an employee.
The IRS has got to be one of the most complicated entities around. Nothing is ever black or white and the gray area seems to be endless. Yet, we all have to ensure we are in compliance with their many rules and regulations at all times. For this reason, it is usually a great idea to consult with a tax or legal advisor before deciding on any factor as it relates to the government taxing agencies.
Commonly Asked Question:
Can an Employee also be an Independent Contractor for the same company? The answer by Larry Shaub, CPA, CHRS, CPP of Accupay.